Announcing the 2020 Cetec ERP User Conference
We're all looking for some good news right now. Well, have we got some for you!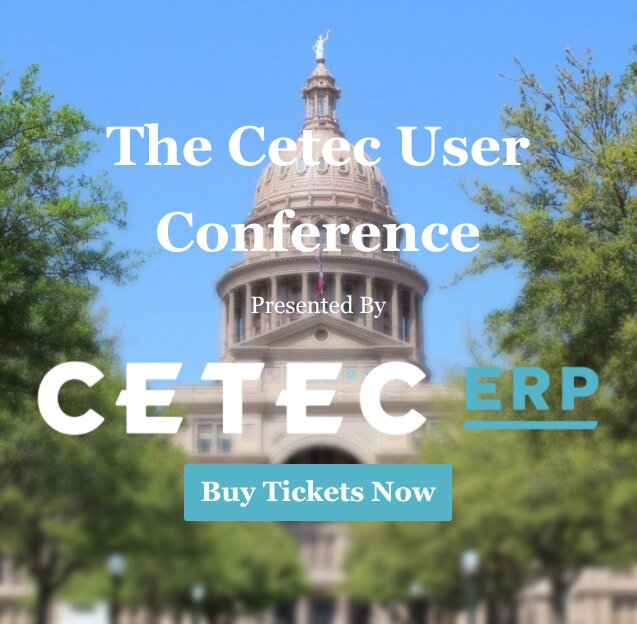 We are excited to announce dates for the 2020 Cetec ERP User Conference. The Second Annual User Conference will be held in Austin, Texas on October 14 & 15, 2020.
Early Bird Tickets are on sale now for $221 until June 1st!
(BUY EARLY BIRD TICKETS HERE!)
What are the details?
We will feast on breakfast tacos and world-famous Texas BBQ, drink coffee, and hang out with the Cetec team in the heart of the state's capitol. Attendees can participate in ERP training classes and workshops with product experts, as well as discuss upcoming features in Cetec ERP.
Event Details:

Events dates are October 14th and 15th, 9am - 4pm.

BBQ Roundup from 6:00 - 8:00 pm, Oct 14

Breakfast Wednesday and Thursday is provided, as is
Dinner on Wed, Oct 14.

Early Bird Tickets are $221 (until June 1)

Attendance max is very limited, only 100 tickets for sale; tickets limited to 5 employees per company
unless otherwise arranged.

Conference Schedule to be released soon.
Why are we hosting a user conference?
Our primary goal in hosting another successful Cetec ERP user conference is to benefit our users!
This is an entirely UNIQUE opportunity for users to get to know our team, the product, and the Cetec ERP vision.
It's also an opportunity for users of all capacities to gather insight and the "know-how" that can only come by experience from other companies in their industry who are using the Cetec ERP platform.
On top of this, the hands-on training users will receive from our expert product developers and consultants is invaluable! Hourly rates for both scheduled consulting and training in Cetec ERP are $250/hr. For an Early Bird ticket, users can get a WHOLE WEEKEND'S worth of instruction for LESS than they would pay for just one hour at any other time. This is an incredible deal that we offer because we want to see users & their companies flourish in the Cetec ERP platform. We hope all users will take advantage of such an extraordinary opportunity.
Who is this for? Should I consider going?
Are you a user or possible future user of Cetec ERP? If so, then YES, you should consider going!
Owners, stakeholders, "super users", new hires, partners, interested parties or potential future customers are ALL welcome parties at the conference.
Anyone that wants to learn more about how to better use the tools Cetec ERP has to offer.
Anyone who wants to be a part of Cetec ERP's vision for the future!
We're excited to have you join us in Austin this October!
*BUY EARLY BIRD TICKETS FOR $221 HERE!*
Cetec ERP is thankful to be looking forward to hosting our wonderful users at another spectacular Cetec ERP User Conference, this year on October 14 & 15. Join us for extensive training, plenty of tasty Austin treats, and time spent with our team & other experienced Cetec ERP users.