Batch Printing Packing Slips
   If you're a distributor, or find yourself packaging multiple shipments at once, then the process of going to each order just to print out individual packing slips can seem tedious. Luckily, Cetec ERP has a built in function for printing multiple packing slips at once!
   To do this, you'll want to navigate to the "Release Orders - All" page found on the Warehouse tab under "Release to Pick."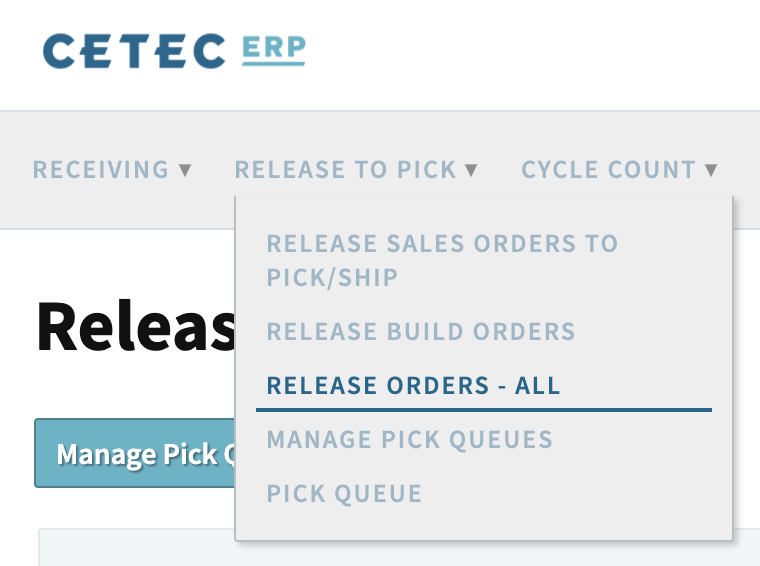 On this page you'll be able to select the appropriate search criteria for the slips you want to print. You can filter by Work/Ship/Dock dates, workflow stage, and even internal or external orders. Once you have your filters selected, press the Submit button to generate the list of orders for which you want to print packing slips.
   Looking at the list, on the far right hand side you should have a column called Move that has a checkbox in the title, as well as for each line. If you don't see the column, you may need to click the "+/- Columns" link at the top of the list and set the Move column to Show. Using the Move column, you can select the specific orders, or all of them, that you want to print by checking their boxes.
   After you've selected the orders, all thats left is to go back up to the search options, select Packing Slip from the dropdown menu next to Batch Print, and then click the Batch Print button.
   You'll be brought to a page containing a list of all the packing slips, which can then be printed on to their own sheets.
This is just one of the many incredibly useful and time-saving features built in to our ERP platform. You can explore this and more by visiting the link below!