Feature Highlight: Customer Sticky Notes
Do you ever need to slap a sticky note on your desktop reminding you to e-mail your colleague, take off early for your doctor's appointment, or pick up dinner on the way home?
Cetec ERP understands that some matters require a reminder stuck in a place where it can be easily seen in order to ensure you take appropriate steps to address it - especially when it comes to matters of customer service. Because it's not just your product that's crucial to the success of your company; it's your customers' experience. That's why we are proud to introduce customer Sticky Notes in our wide array of CRM capabilities available in the Cetec ERP platform!
LEAVE A NOTE
This is an enhancement to the existing Notes feature within a customer record. Cetec ERP users could already enter notes with date and time referenced to keep track of developments with a lead/customer. Notes entered appear this way: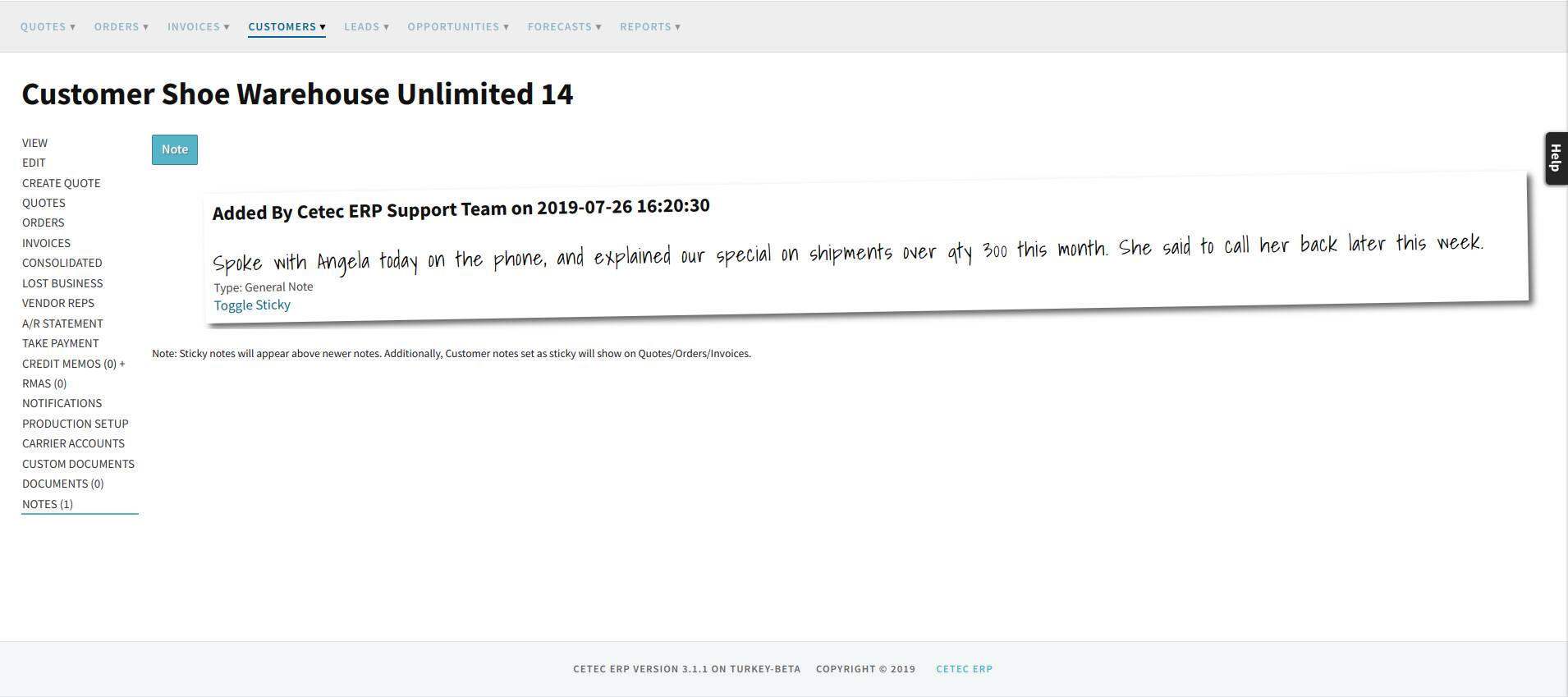 Now, you can enter a note and mark it as 'Sticky', which will then cause the note to appear in the header on all quotes, orders, and invoices entered for this customer. A timed reminder can also be set for the note, which will mean an e-mail is sent to the user's e-mail address initiating a calendar event invitation.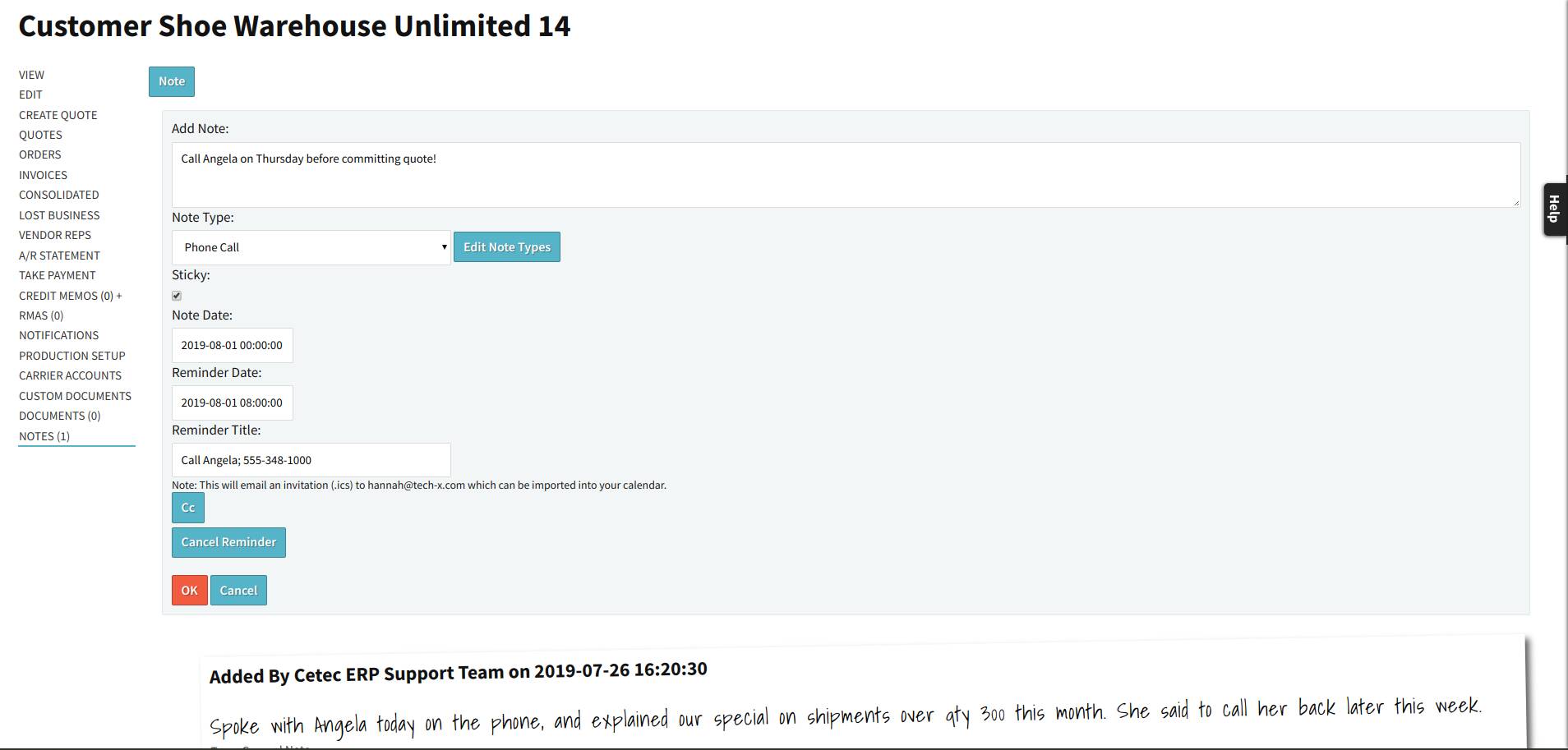 A note toggled to 'Sticky' [shown below] means it appears on the quote entered for the customer so that any important reminders to heed regarding the customer are displayed where users will see them before taking any action on quote/order/invoice items: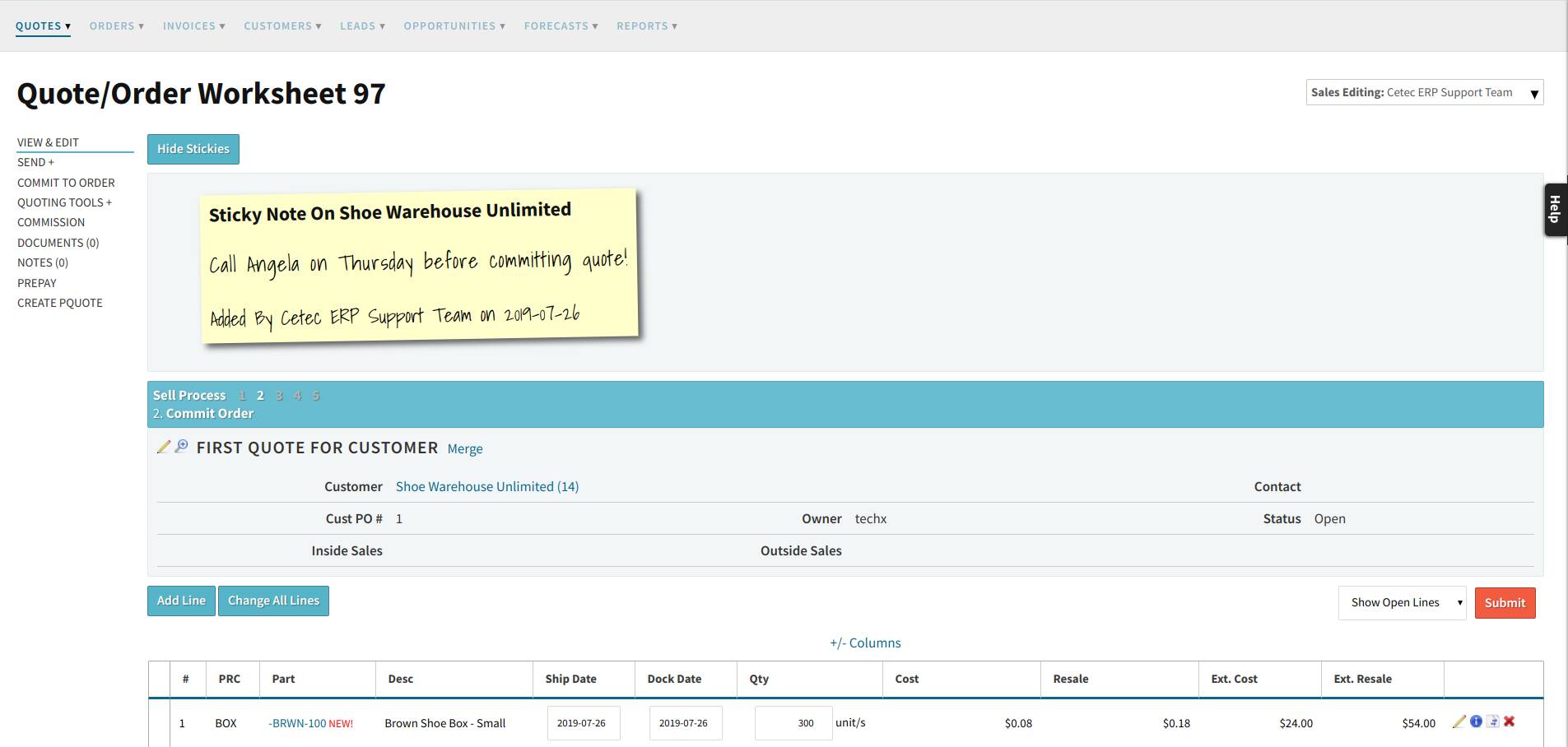 (Note that sticky notes can be hidden or displayed on quotes, orders, and invoices at the user's discretion)
Sticky notes shown on items such as quotes, orders, and invoices help ensure clear communication between your sales, production, and shipping teams, giving all awareness of any notable factors surrounding a customer in your system that would be crucial to winning a sale and/or long-term customer retention.
Sticky notes are another feature in Cetec ERP's integrated CRM platform meant to increase visibility to customer information, improving overall interactions with customer and helping to ensure your customer service remains top-notch.

CLICK HERE IF YOU WOULD LIKE TO BEGIN A FREE TRIAL OF CETEC ERP TODAY.