Why You Should Be Excited About the New Purchasing Task Dashboard in Cetec ERP 4.0
You wanted new features in Cetec 4.0, and we got 'em! Our new purchasing task dashboard allows a purchasing employee to login to Cetec, review one screen, and see all the tasks they need to complete. With the purchasing dashboard, you can:
See your late POs
See your unacknowledged POs
Review parts below ROP (safety stock)
Review POs pending your approval
And SO MUCH MORE!
To access your personal dashboard, navigate to Purchasing » REVIEW.
You'll see that the Purchasing REVIEW page publishes a series of nine real-time KPIs that are task oriented and color-coded for easy visibility.
RED=Purchasing task is needed GREEN=Purchasing task is complete BLUE=Neutral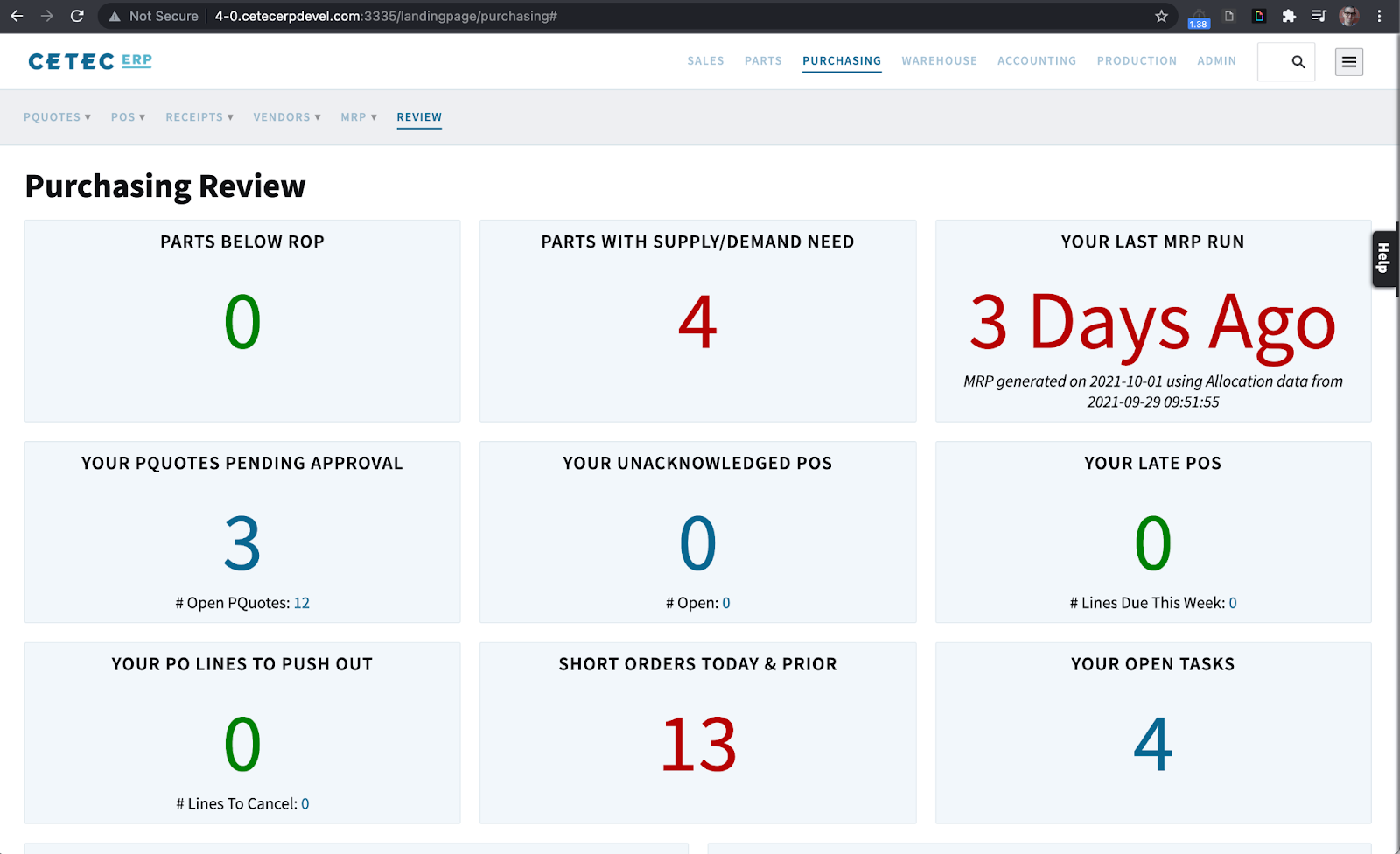 Because each KPI is clickable; you can click the data point and it will take you to the place in Cetec ERP where purchasing can respond to the KPI.

KPI review tasks include:

Number of Parts below Re-Order Point (ROP) that need to be replenished and placed on POs

Number of Parts late/short with demand need that need to be placed on POs to satisfy the demand

The most recent refresh of Allocation driven MRP to update ROP and supply/demand

The number of pQuotes the user has submitted and are waiting on management approval

Number of POs that you (the user) have placed with a vendor but are not yet acknowledged

Number of POs that you (the user) have placed with a vendor but that are not scheduled to arrive in time

Number of POs that you (the user) have placed with a vendor but that are scheduled to arrive sooner than they need to (potentially tying up cash in inventory not yet needed)

Number of Sales Orders and/or Work Orders that are short/late due to inventory shortage and/or PO lateness.
The new features included in Cetec 4.0 like the purchasing task dashboard make it easier to see what you need to get done all in one location.
At Cetec ERP, we strive to make things easier and more straightforward for your company. We are excited that our customers can take advantage of the latest enhancements to the Cetec system included in Cetec ERP 4.0! This release is now available in BETA environments and will be fully released to LIVE cloud environments by November 5, 2021.