Update BOM Revisions on Open Orders On The Fly
We recently had a customer come to us with a hiccup in a production order they were working on. The speed bump arose when their customer asked for a change to the revision listed for one of the subassemblies.
This team already had parts picked for the sub assembly; we'll call it Rev X. Rather than scrap the entire order and create a new one with the updated revision, losing all the work done on the order, Cetec ERP allows you to change the revision on the open order.
After instruction from our support team, this customer was able to navigate to the sub assembly work order, click on the 'CHANGE REV' button in the 'MAINT/ETC+' dropdown menu, and adjust the revision from Rev X to Rev Y. Note that Cetec ERP flags this action with a request for approval that all parts picked on the sub assembly order for Rev X will be unpicked and then re-picked on the new sub order created for Rev Y - this is exactly what you want! This action allowed them to bypass manual dekitting and automatically unpicked and re-picked those parts needed on the new suborder with the new rev.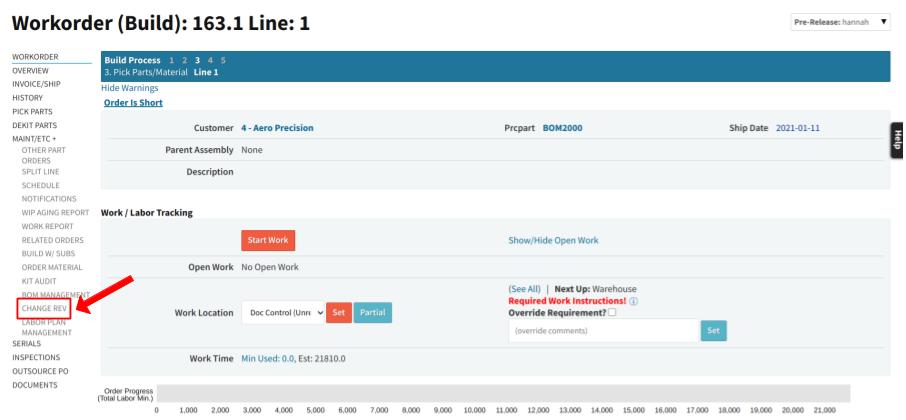 The Change Rev button is found under 'Maint/Etc +' on the left-side nav menu of the work order.
Here users can select which revision they would like the order to be updated to reflect.

Notice of unpicking, and re-picking parts onto new revision.
Once updated, your team may continue with your order as usual, sidestepping any huge upheaval to your processes when customers come to you with changing needs.
Cetec ERP allows you to take changing customer needs in stride. Changing revisions on the fly on open orders, even after having picked parts, is just one of the many benefits of modern ERP software. Don't miss a beat on fulfilling customer requests while you keep your team on track for efficient order processing!