Write-Off Unused Or Unlikely-To-Be-Used Inventory And Save On Inventory Taxes
Tax season is a stressful time. Even more stressful if your company has a large amount of inventory sitting on hand that may never all get used!
In specialized and custom manufacturing, you may have purchased inventory that is only designed for a single complex assembly part. There may not be enough projected sales of that assembly to justify and/or makeup for the tax your company will be paying on for that valuable inventory sitting on hand in your warehouse.
If that is the case, it would be wiser for your business to just take it as a loss and get it OUT of your inventory, write it off completely (so you don't get taxed on it!)
Cetec ERP has an amazing report to pull from to figure out what products your company may want to consider writing off.
The 'BOM Inventory Usage Report' is able to create a grouping of similar BOM assembly parts together. Using the 'Specific Parts' Field you can type in a BOM assembly part you would like to search for inventory write-off, click the corresponding BOM on the dropdown beneath, letting you save specified BOMs so you can search across multiple assemblies.
With this BOM usage report, you can:
Group together any shared components or subassemblies.
Display a 'BOM Use' metric and sort in descending order, so you can quickly identify parts that aren't used on many BOMs.
Show the 'Ext Inventory Value' of those uncommonly used parts to easily identify high value inventory tax savings opportunities.
Check out this view of a BOM Inventory Usage Report in Cetec ERP!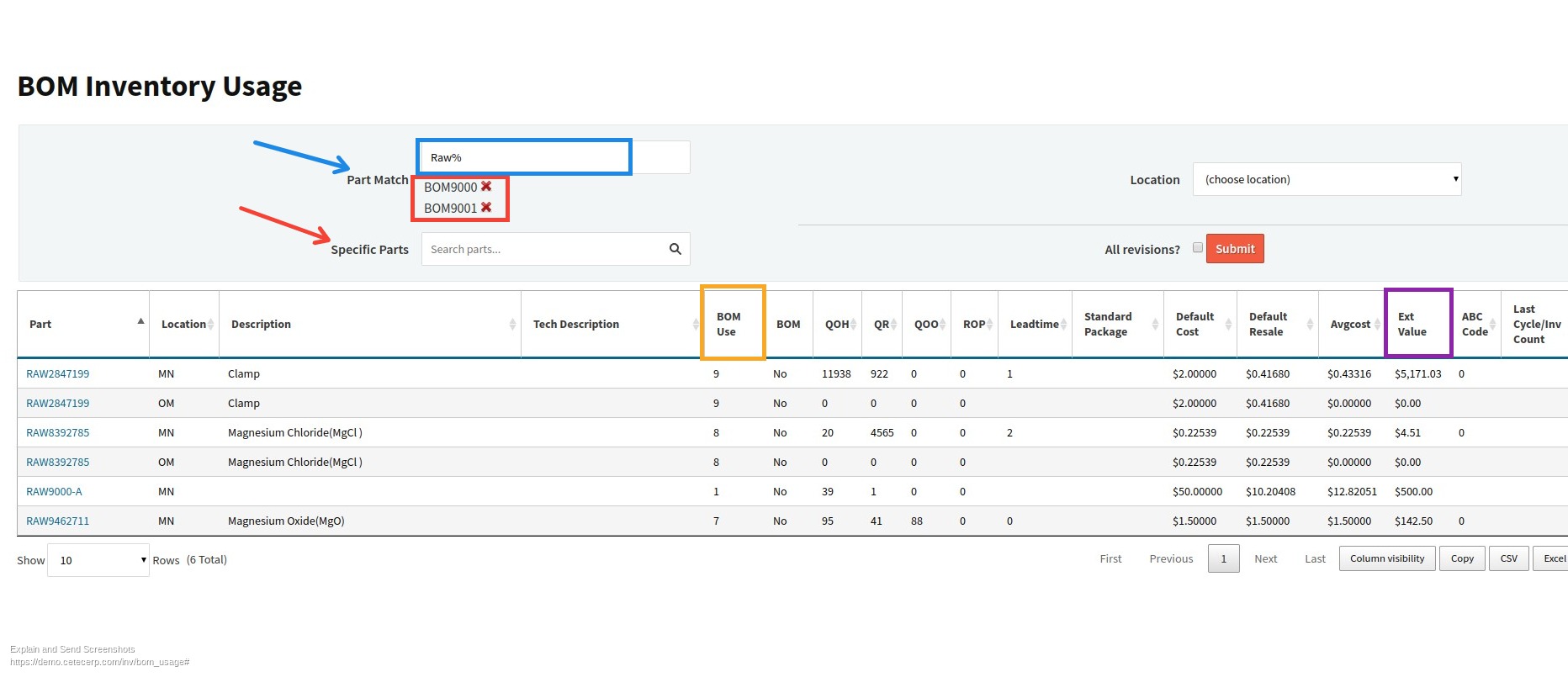 Low cost cloud ERP with Cetec ERP can help your business save money and valuable time during tax season! We can easily show your High Value Inventory items that may be great opportunities for tax savings. Sign up for a free trial below and start the journey to Cloud ERP! We would love to give you a free qualification call to compare our system's capabilities with your company's requirements.