Tracking User Changes with Inventory Activity
Let's say you've run into an unexpected change to an inventory count, or an odd edit has been made in a BOM. Before you decide for certain that something was created by mistake, you may want to check with whoever created the new item and hear their reasoning.
But who made this mystery change?
If you want to track the user down quickly - or nobody recalls making this change - you'll need to find a record of the changes. What is the best way to achieve that in Cetec? We have two different routes you can utilize.
We have several reports that show which user took various actions. These reports are usually broken down to cover the general area where the change was made.
For instance, if you are tracking down an inventory adjustment, you would use the Inventory Activity report. Head to the parts tab and locate the Reports dropdown, then select Inventory Activity. This report will tell you which user made an inventory adjustment, and the reason for the adjustment. Check out a screenshot of this report: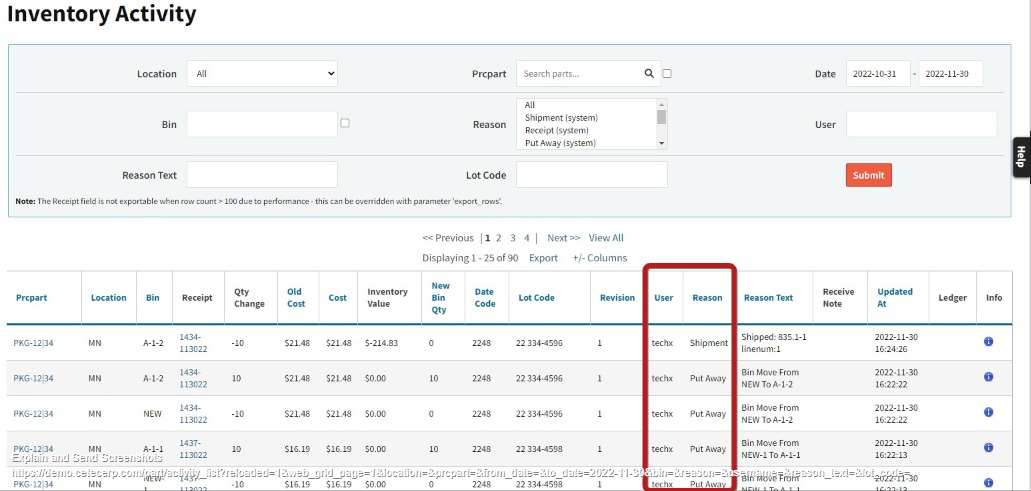 But what about a case where a specific report for tracking user changes does not exist? Let's say someone has edited a BOM, and you want to make sure the change was intentional. As long as the change was made within the last three months, you can use the usage logs to find user activity all over the system.
This link will take you to a support page with specific instructions and some pointers on how to utilize our Usage Log page.
With reports like our Inventory Activity report, your company is able to boost transparency and communication, working even more effectively as a team.