Reduce Data Entry on Vouchers by Leveraging Imports
It's no secret that the last few years have been turbulent for manufacturers. We've seen customers rapidly increase their sales due to the fluctuating market and instability of the supply chain. Purchasing teams had to adapt to handle high volumes of material requirements, which put strain on accounting teams needing to accurately manage the data entry of accounts payable. We've also seen some of those same customers slow down dramatically in the last 6-9 months as the economy has restricted. This means that purchasing teams need to be savvy shoppers and ensure unused inventory is not piling up.
A consistent challenge for any business, particularly small or mid-sized manufacturers, is supporting and maintaining growth, while still controlling operational costs and minimizing risk in uncertain times. How do you maximize the data entry efforts of your accounting team, without sacrificing their job satisfaction or flippantly adding additional salary costs in an unpredictable economy? The answer lies in finding ways to leverage your ERP or accounting software to help streamline your data entry processes.
Take, for example, the process of linking PO lines and material receipts to the correlating Vouchers (vendor invoices). Cetec ERP has a feature that allows you to import a spreadsheet of PO lines and receipts, and pair them with the correct Vouchers - allowing your accounts payable team to drastically reduce their manual data entry.
In this article, we will be walking through a practical application of how you can enter a number of vouchers and link the correct PO lines and receipts in batch, rather than one-by-one. We will cover exporting PO lines/receipts, connecting these to your Vendor's invoices via a spreadsheet editor tool such as Excel, and importing instructions.
Begin by navigating to the Accounting module. Click the A/P menu to select Voucher Import from the dropdown menu.
After loading the Voucher Import screen, click into the Import PO Lines and Receipts to Voucher hyperlink.
The first step to importing PO lines or receipts into a voucher is to upload the file that will be used. Take note that there are required fields for this import to work appropriately.

A new .xls or .csv file can be created and required fields entered manually as columns or you can export the PO Line Receipt list from under the Receipts tab of the Purchasing module. Be sure to have the necessary columns visible prior to exporting.
Next, open the exported file to add the remaining needed columns. In the example figure below, the columns Vendor Invoice Number and Vendor Request Amount have been added.

To upload the file, click "Choose File" on the Import PO Lines and Receipts to Vouchers screen. Once ready, select your inputs by checking Receipts and/or PO Lines and click Import File. You can also import text using commas and returns to distinguish 'columns' and 'rows'.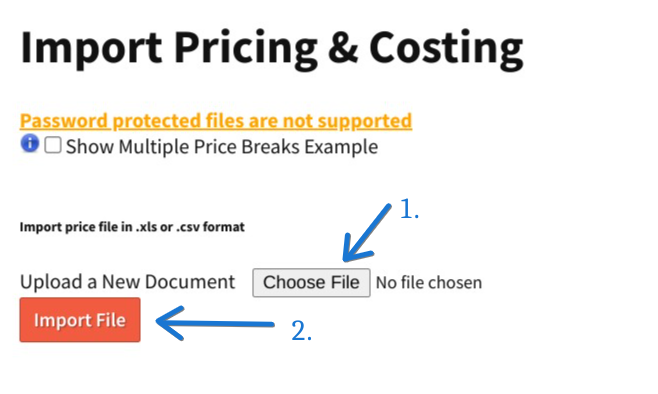 After clicking import, a preview page will load. Choose how these imported lines will be grouped and verify the necessary columns are identified correctly. In this example, the lines are grouped by the Vendor Invoice Number.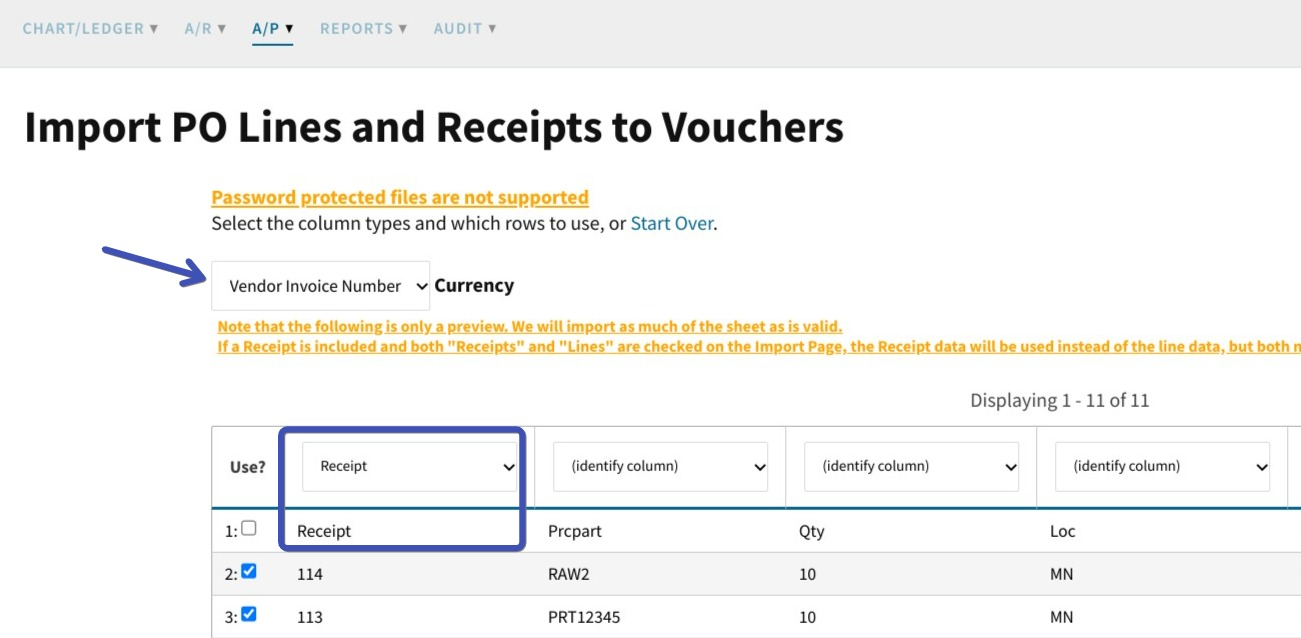 To save the results, click the Update button followed by the Finish button to complete the import.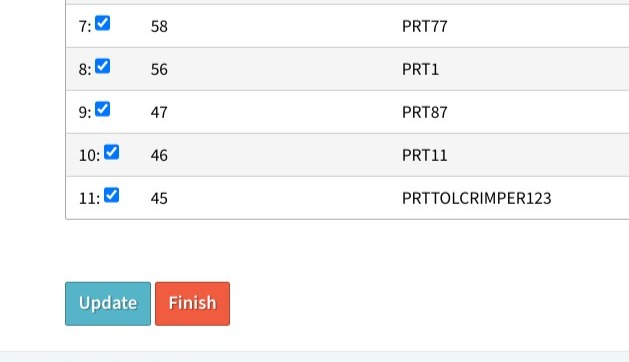 A message in the top right corner will populate detailing the qty of successful lines imported.

By navigating to the Vendor List under the A/P menu in the Accounting module, we can locate the voucher to view the successful PO lines and receipts.
The PO lines and Receipt import tool provides potential to boost ROI by alleviating the need to manually attach individual POs lines and/or receipts to vouchers. The tool also allows for data validation of new lines and receipts that are imported into the system, making sure that all information is accurate before being processed. With this tool, your company will be able to get more out of your imports with increased efficiency, accuracy, and control. Watch our how to video here.